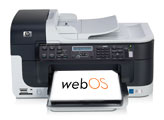 During HP's earnings [
Для просмотра нужна
] today, HP CEO Mark Hurd spoke a bit on the Palm acquisition and some of HP plans for its new assets. During his opening remarks he mentions a bit about how HP will utilize webOS saying ([
Для просмотра нужна
]):
"In order to enhance our intellectual property...in the connected-mobility space. We expect to leverage webOS into a variety of form factors, including slates and Web-connected printers, […] "With a whole series of Web-connected printers, as they connect to the Web, they need an OS."
HP's Todd Bradley already strongly hinted at webOS on tablet like devices [
Для просмотра нужна
] saying HP would "invest heavily" in webOS technology. In the financial department, HP had an impressive second quarter with net revenue of $30.8 billion, up 13%, or $3.5 billion, from a year earlier with strong double digit growth across all regions.
[
Для просмотра нужна
]